Virginia Highland Real Estate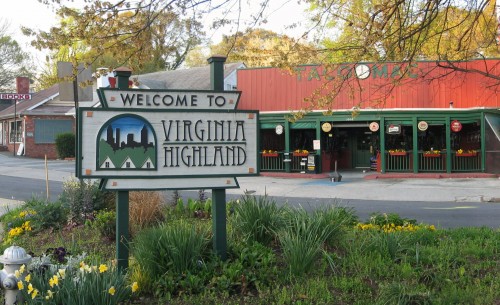 VaHi is a nickname given to Virginia-Highland, a neighborhood of Atlanta founded in the early 20th century. Located east of Piedmont Park in the heart of a busy commercial district identified for its pubs and restaurants, the neighborhood took its name from the intersection of Virginia Avenue and North Highland Avenue. It is pedestrian-friendly; in fact, the sidewalks are packed even in late nights.
Here are more interesting facts about VaHi:
• Seven distinct commercial villages comprised Virginia-Highland when it was developed in early 1900s.
• Just like other in-town Atlanta neighborhood, Virginia-Highland underwent a decline starting in the 1960s due to economic reasons. Residents transferred to the suburbs and lifestyle drastically changed.
• Five decades after, particularly in 2011, VaHi rose up and was voted by Creative Loafing readers as "Best Overall Neighborhood". In June of the same year, Atlanta Magazine selected it as "Favorite Neighborhood Overall". As if these acclaims were not enough, readers of Created Loafing recognized VaHi as "Best Walkable Neighborhood" in 2012.
• It is Atlanta's well-admired locality for shopping, dining and nightlife. Townsfolk and tourists alike intermingle at various establishments to discover the unexpected and develop lasting bonds with each other.
• Virginia-Highland has a wide array of retail offerings. It is highly commended for its diverse and one-of-a-kind shopping life. Upbeat apparels, rare-to-find antiques, folk and pop art, fanciful decorative trimmings, uncommon cigars, unique art books, do-it-yourself pottery, spas and salons are among the best things not to be missed when in VaHi.
• Among many names commonly spoken of VaHi such as "Virginia Highlands" and "the Highlands", only "Virginia-Highland" remained the official name of the neighborhood.
Vital in any destination is the means of transportation to get you going. Thanks to MARTA buses stationed in Midtown, Inman Park and Reynoldstown, Virginia-Highland is accessible to people who might want to tour the neighborhood and discover the possibilities of making it their home.
Homes For Sale
Schools
To learn more about how these ratings are created, please click here.
Neighborhood
Image "VaHiPanorama" by Jamarks