Sandy Springs Real Estate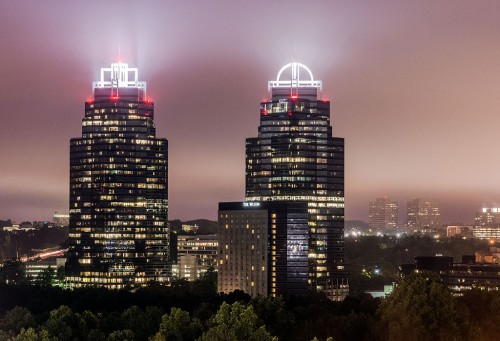 Located in Fulton County, the city of Sandy Springs stands mighty and proud, not only because of its history but also due to its unparalleled development.
Sandy Springs is bound by the city of Atlanta, the neighborhoods of Brookhaven and Dunwoody, and Cobb County. The city is divided into the following neighborhoods: Riverside, Dunwoody Panhandle, North Springs, Perimeter Center, Sandy Springs ITL, and Downtown. These neighborhoods provide not only a wide array of residential options but also many commercial destinations.
If you haven't been to Sandy Springs, be sure to visit them during the third week of September for the Sandy Springs Festival. This annual celebration aims to promote the history and culture of Sandy Springs through open markets and expos, musical performances, parades, and play areas for kids. Come April, check out the Sandy Springs Artapalooza, a free festival that celebrates the fine arts via exhibits by more than 100 artists in the county. Other events that you must catch are the Sandy Springs Cycling Challenge and the Annual Chattahoochee River Summer Splash.
Sandy Springs is home to some of Atlanta's best tourist attractions:
• Heritage Sandy Springs Museum, where the history of the city can be seen through exhibits.
• Heritage Green, situated in the middle of Downtown Sandy Springs. Don't miss the original sandy springs, from which the city's name came from.
• Morgan Falls Overlook and Athletic Complex, where you can enjoy the company of family and neighbors in the midst of playgrounds, boat dock, sports fields, and scenic views.
Residing in Sandy Springs allows you access to several offices for your next possible job. Companies that have rooted in the city include IBM, Cisco Systems, UPS, and AT&T. You don't have to worry about transportation and access. Aside from strategically constructed roads, Sandy Springs is also accessible through the MARTA mass transit.
Setting residence in Sandy Springs is anything but sandy. Your vibrant life is waiting at Sandy Springs!
Homes For Sale
Schools
To learn more about how these ratings are created, please click here.
Neighborhood
Image "The King and Queen towers" by Maksim Sundukov