Downtown Atlanta Real Estate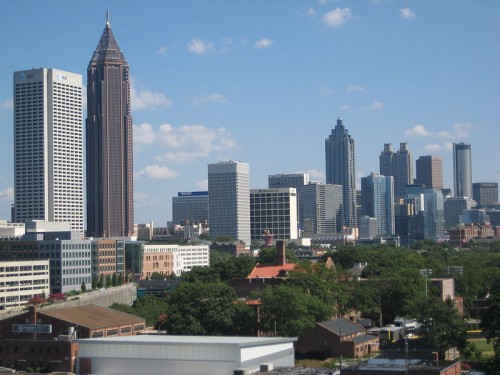 City lights, premier corporate offices and exciting tourist attractions all come together in Downtown Atlanta. This is the largest commercial district in Atlanta and the city's central business hub.
You might be wondering whether Downtown offers places for residence, and the answer is a resounding "yes"! While its business sector keeps on churning, Downtown Atlanta has undergone changes to accommodate housing facilities such as loft and condominium complexes in order to bring people closer to the cityscape. The district is divided into Castleberry Hill, Centennial Hill, Fairlie-Poplar, Five Points, Hotel District, Luckie Marietta, Peachtree Center, SoNo, and South Downtown.
Naturally, what attracts people to Downtown is its robust city life. Downtown is home to the following landmarks:
• Attractions: Georgia Aquarium, The World of Coca-Cola, Peachtree Center Athletic Club
• Parks: Woodruff Park, Centennial Olympic Park, Hurt Park
• Shopping: Underground Atlanta, The Mall at Peachtree Center
• Sporting and convention venues: Georgia Dome, Philips Arena, Turner Field, The Tabernacle, Georgia World Congress Center
Tourist attractions that focus on entertainment also attract visitors and residents. Some of the notable entertainment choices include the following:
• Atlanta Cyclorama and Civil War Museum. Witness history through the world's largest oil painting about the Battle of Atlanta.
• Movie Tours. Enjoy a three-hour tour to see the shooting locations of popular Hollywood films.
• Neighborhood Walking Tours. Take a trip to the past through the district's historic landmarks and structures.
• Inside CNN Studio Tour. Watch how news unfolds in the CNN studio.
• Skyview Atlanta. Ride this 20-storey Ferris wheel to see a breathtaking view of Atlanta.
If your business in Downtown is, well, business, the district has more than 26 million square feet of office space. What's great is that you can work in Downtown Atlanta and live in one of its residential complexes as well.
Homes For Sale
Schools
To learn more about how these ratings are created, please click here.
Neighborhood

Image "Atlanta Downtown July 2010″ by Arashboz